Because foot pics* can operate in two discrete modes of content consumption simultaneously (i.e.
they can be memes and nudes simultaneously
, in the same public sphere), their perception depends entirely upon the viewer and the context in which the image appears. Thus the foot pic is both highly valuable and almost worthless at the same time - and this creates a highly intriguing supply & demand dynamic when creators/consumers fall on different ends of this valuation scale.
The foot pic, then, becomes a commodity which the consumer is willing to pay for on its basis as an intimate, revealing, and/or pornographic (and perhaps power-granting, when provided on request) asset, while the producer may** see it as a meme, a dupe, a way to trick the horny-credible out of their ill-spent cash.
6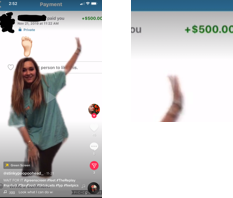 TikTok user @stinkypoopoohead_ shoes off a $500 Venmo payment, ostensibly for foot pics, demonstrating how foot pics can operate within the Meme paradigm
The foot pic is that rarest piece of pornographic content: produced by casual and non-professional creators, yet which nevertheless is unlikely*** to haunt its creator in the future as long as it can be offhandedly dismissed within the humorous context it inhabits in the minds of a non-fetishist audience.
7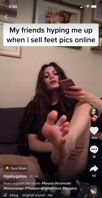 A TikTok by user @gabybgabss captioned "My friends hyping me up when i sell feet pics online" underscores the local relative acceptability of foot pics
We endeavor not to yuck anyone's yum - and by offering itself as a meme for the non-yum, foot pics achieve a broad appeal across social platforms. Few people on a platform will cast shame on a fellow user for being a producer of foot pics. Indeed, if any comment is provoked besides a benign "lol," it is frequently a kind of bewildered respect for the sheer chutzpah, the artful racket, the incomprehensible yet undeniable long-tail capitalist processes, that have allowed a person to meaningfully profit from this most absurd of photographic endeavors.
* some feet pics: usually those exclusively of feet.
** there is no guarantee that the producer of a foot pic sees it only as meme, however they are likely to be aware that this is a viable interpretation.
*** this is still highly contingent on the exact contet of the image, and the producer's social environment, of course.